The Multiple Myeloma Research Foundation
An innovative registry with data for cancer patients & a full website redesign.
PROJECT: MMRF CureCloud Patient Registry
LINKS: mmrfcurecloud.org and themmrf.org
CLIENT: The Multiple Myeloma Research Foundation
Medium: responsive web
Launched: 7/14/2020
Category: Digital Experience, Non-profit
About the MMRF
The Multiple Myeloma Research Foundation (MMRF) drives discoveries for new treatments, accelerates groundbreaking clinical trials and fuels the most robust data-driven initiatives in cancer research. Their goal is to find a cure for each and every patient diagnosed with multiple myeloma.
About the CureCloud
To advance its mission, MMRF needed to collect more patient data to identify the right treatment options for each patient. This meant the business would need to build a new, direct-to-patient model, requiring deeper understanding of their patients to create the right value in exchange for data.
The MMRF CureCloud® is a research study that includes the first at-home genomic testing program for multiple myeloma patients. The goal is to accelerate research toward smarter treatment options for every patient.
The target audience were patients with active multiple myeloma and their physicians. Patients are able to get at-home blood draw done that gives them a valuable research-level report about their multiple myeloma variant. The report includes access to a dashboard where they can learn more about their variant and the program. This is especially valuable for patients whose cancer doctors aren't myeloma specialists.
CureCloud | mmrfcurecloud.org
I was UX Lead on a complete patient registry experience called CureCloud. I worked with the CXO (the two of us acting as co-experience directors), a UX Designer, Design Director (UI), ACD (Copywriter), Content Strategist, internal consulting/strategy partners (Prophet) and a development shop called Prometheus. The CureCloud had two iterations, MVP and phase 2.
We designed every step, from patients and physicians learning about the CureCloud, to screening for eligibility, to the journey of getting blood drawn and receiving results.
We performed end-to-end research, did concept testing, held interviews with healthcare professionals as well as patients, and created user journeys and user flows.
Website redesign | themmrf.org
I worked with client stakeholders, a copywriter, Project Manager, Associate Design Director, and consulting/strategy partners.
Patient Interviews
At the discovery phase of the project, we conducted user interviews in order to get a better understanding of the problem.
We conducted several rounds and types of interviews, including concept testing and user testing.
Findings
Across the board, we heard that patients have felt overwhelmed and confused by their medical information and diagnosis at key points in the journey:
Patients often feel overwhelmed by complicated and highly technical medical information: "When I have tests done, I don't understand the technicalities of the results or what my numbers mean. It is all so overwhelming."

Physicians don't always have time to sit with patients to review results and answer questions: "Half the time, I don't even get to see my oncologist. I see a PA and they want to scoot through even faster, so there's not time for questions -- you need to be prepared."

Patients are often told that every myeloma patient is different, making shared-learnings difficult to access: "All I kept hearing was "everyone is different". The fact is, everyone is different. You don't want to hear that. You can't read the internet and find clear answers for you."

Patient History, Patient Insights, Nurse Navigator stood out as the key features patients would use.

Patients liked the idea of having a single place they can go to learn more about their condition and prepare themselves for appointments with physicians.
"Half the time, I don't even get to see my oncologist. I see a PA and they want to scoot through even faster, so there's not time for questions -- you need to be prepared."
-Multiple Myeloma patient

Areas of Concern:
Complex results: "A little bit of information overload"

Quantity of information: "It can be overwhelming to learn about the diagnosis itself and steps involved, it's important not to overload patient with too much information"

Accessible answers: "If I wanted to learn more about something, if I had questions or something, is there an FAQ?"

Available FAQs

A simple way for patients to see their progress over time (and across treatments)

Clear messaging that this is a free feature.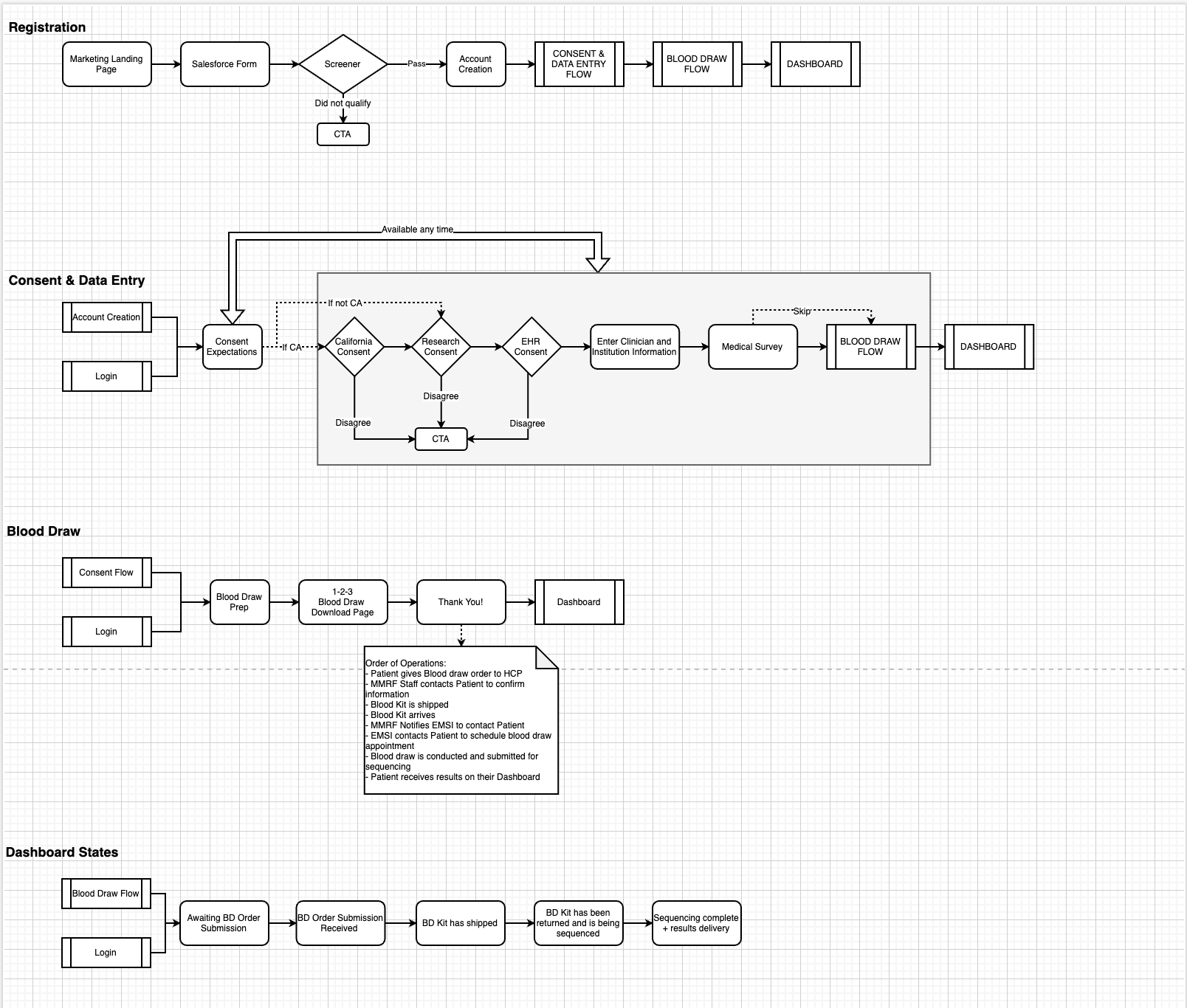 Wireframes
We created wireframes to present to the client on Invision in weekly reviews. The client understood wireframes; this was useful because it saved time for us to make edits in the wires rather than in comps.
The wires were greyscale, medium fidelity, and created in Sketch with several iterations. We used some of the wires for testing purposes.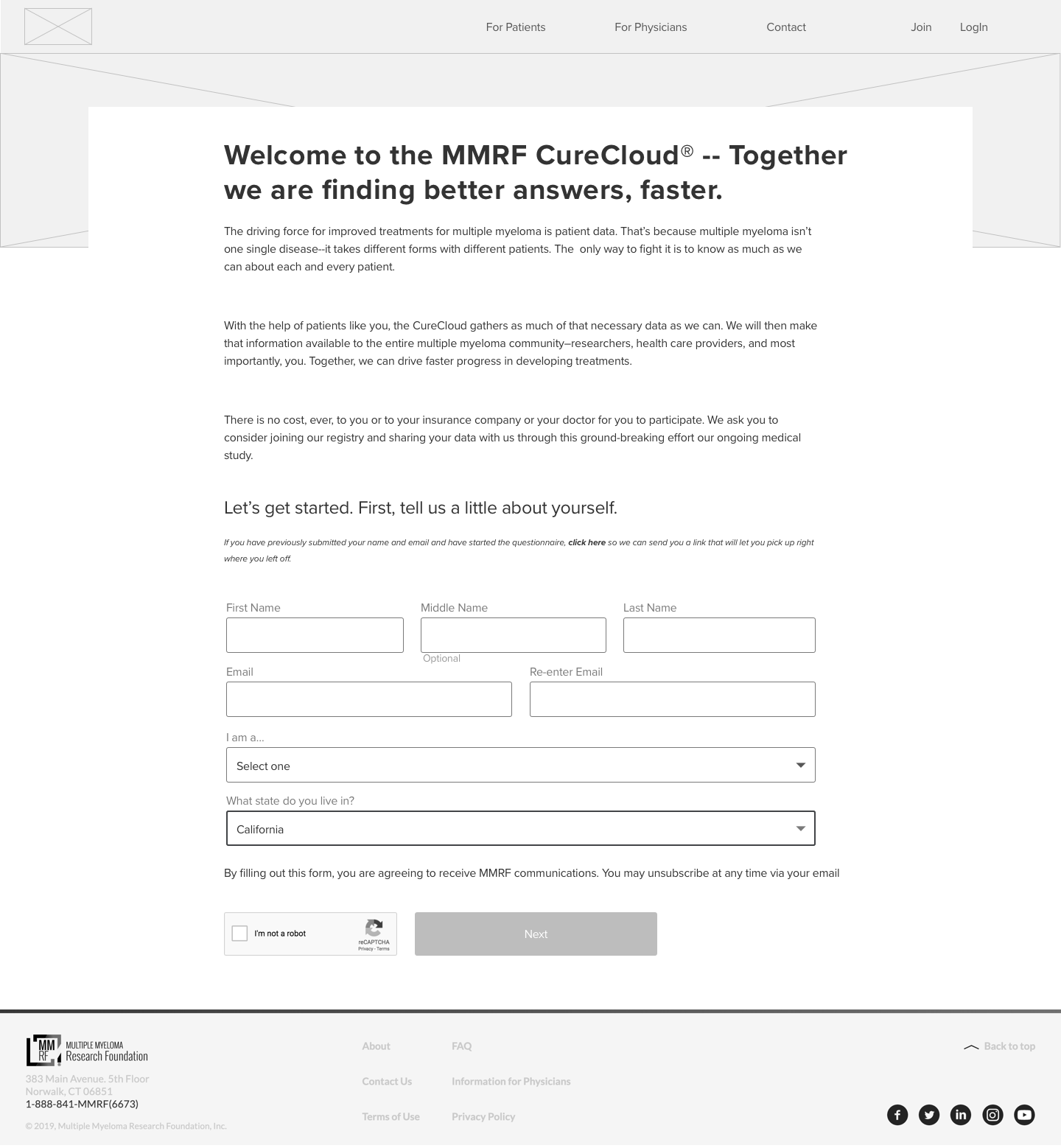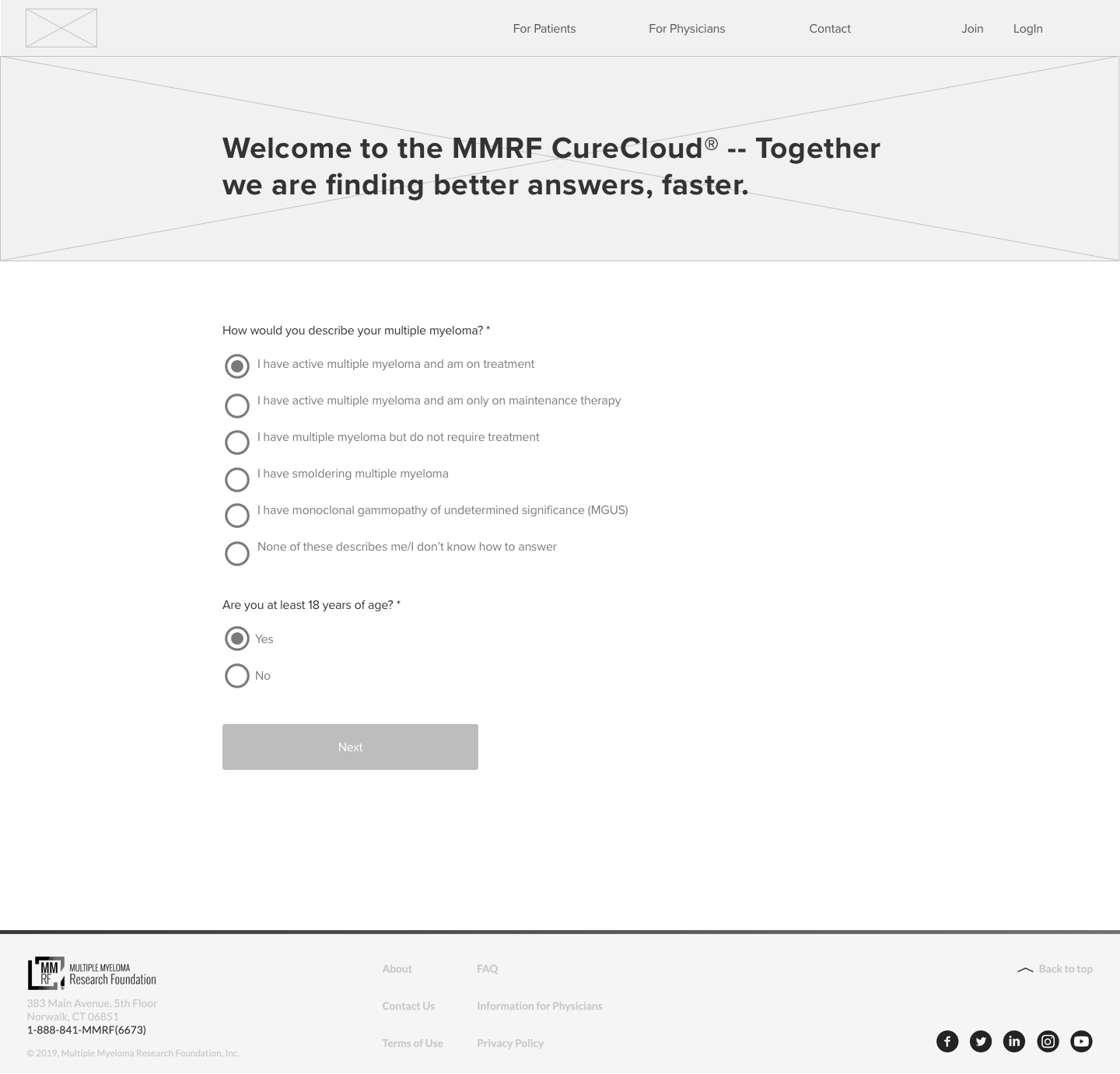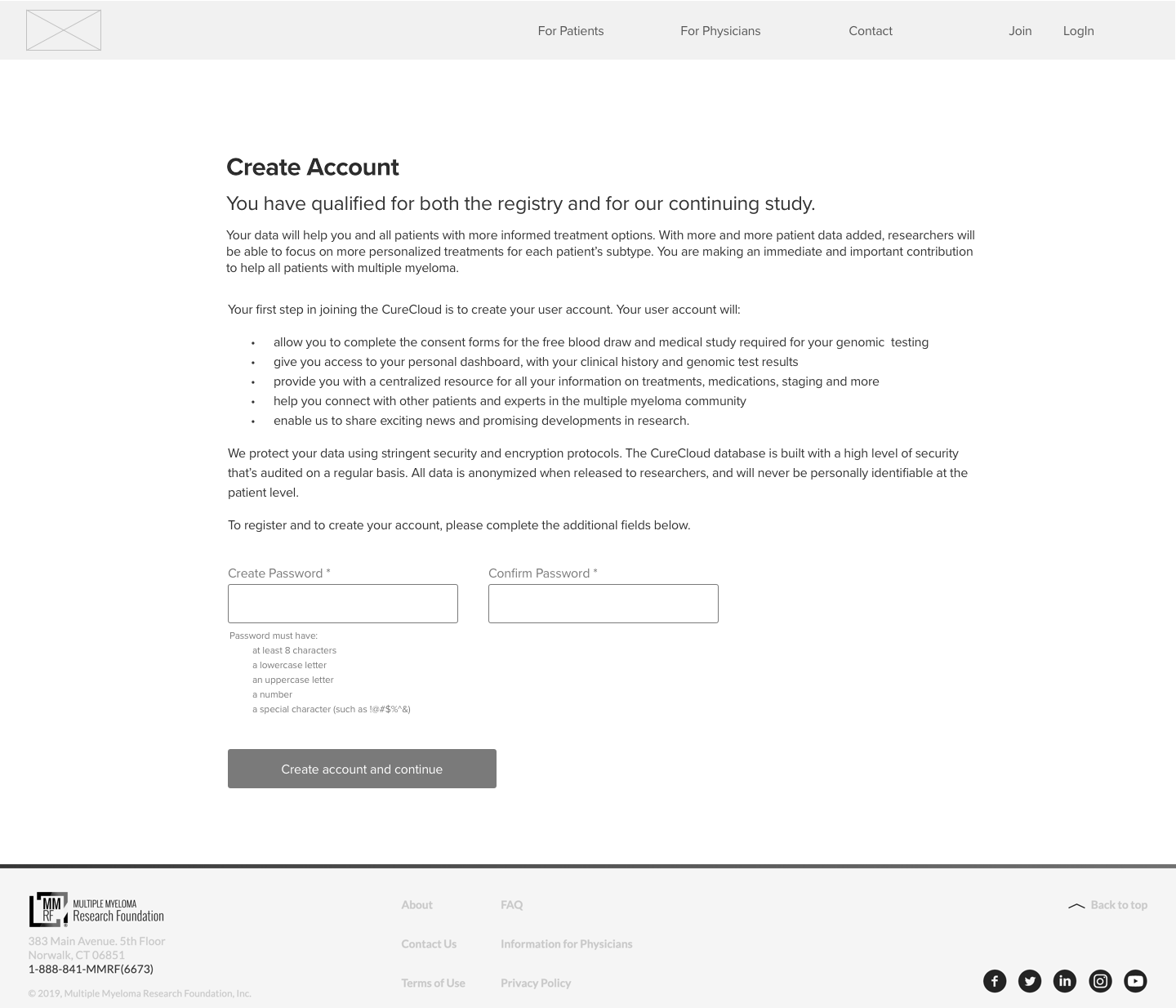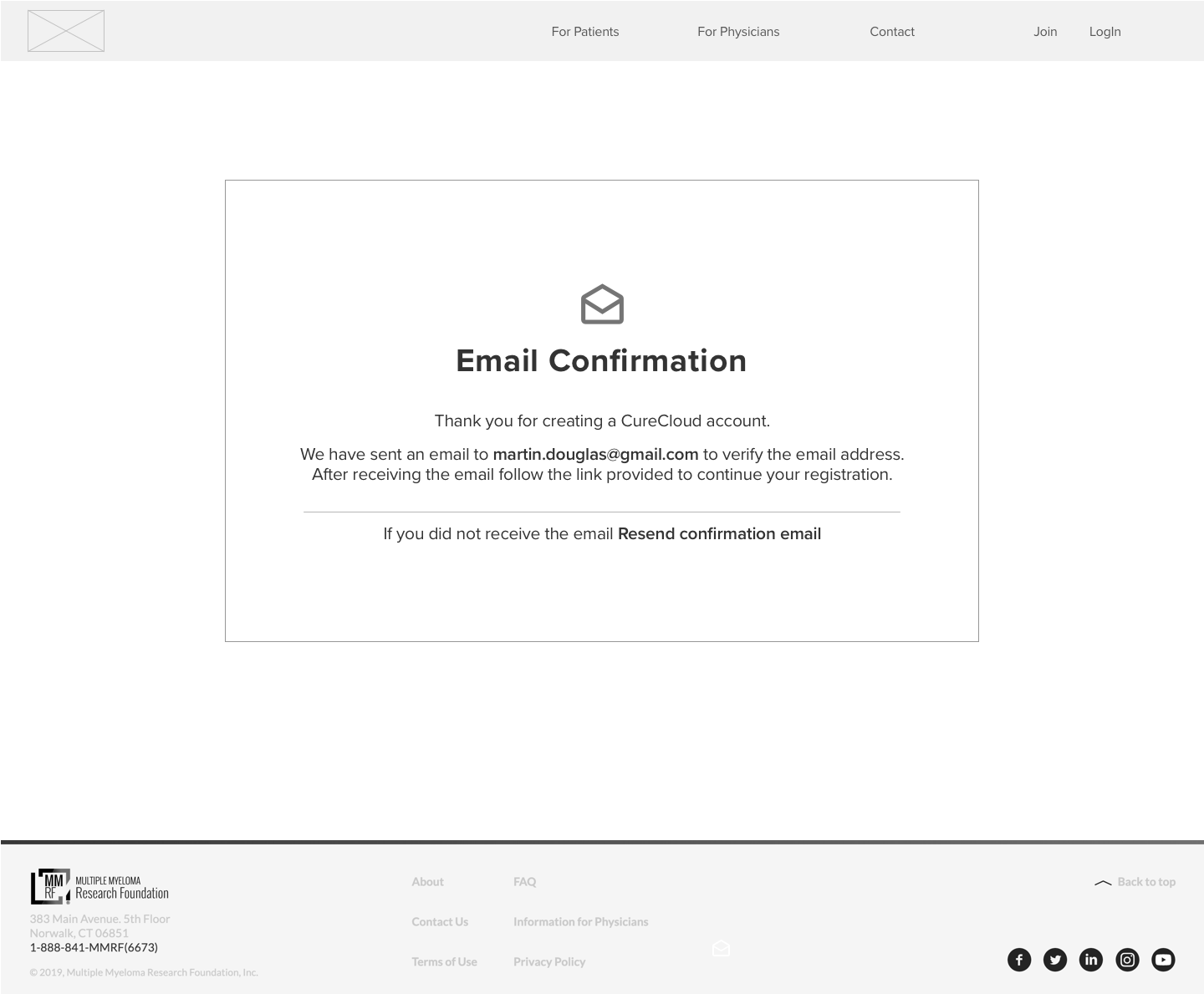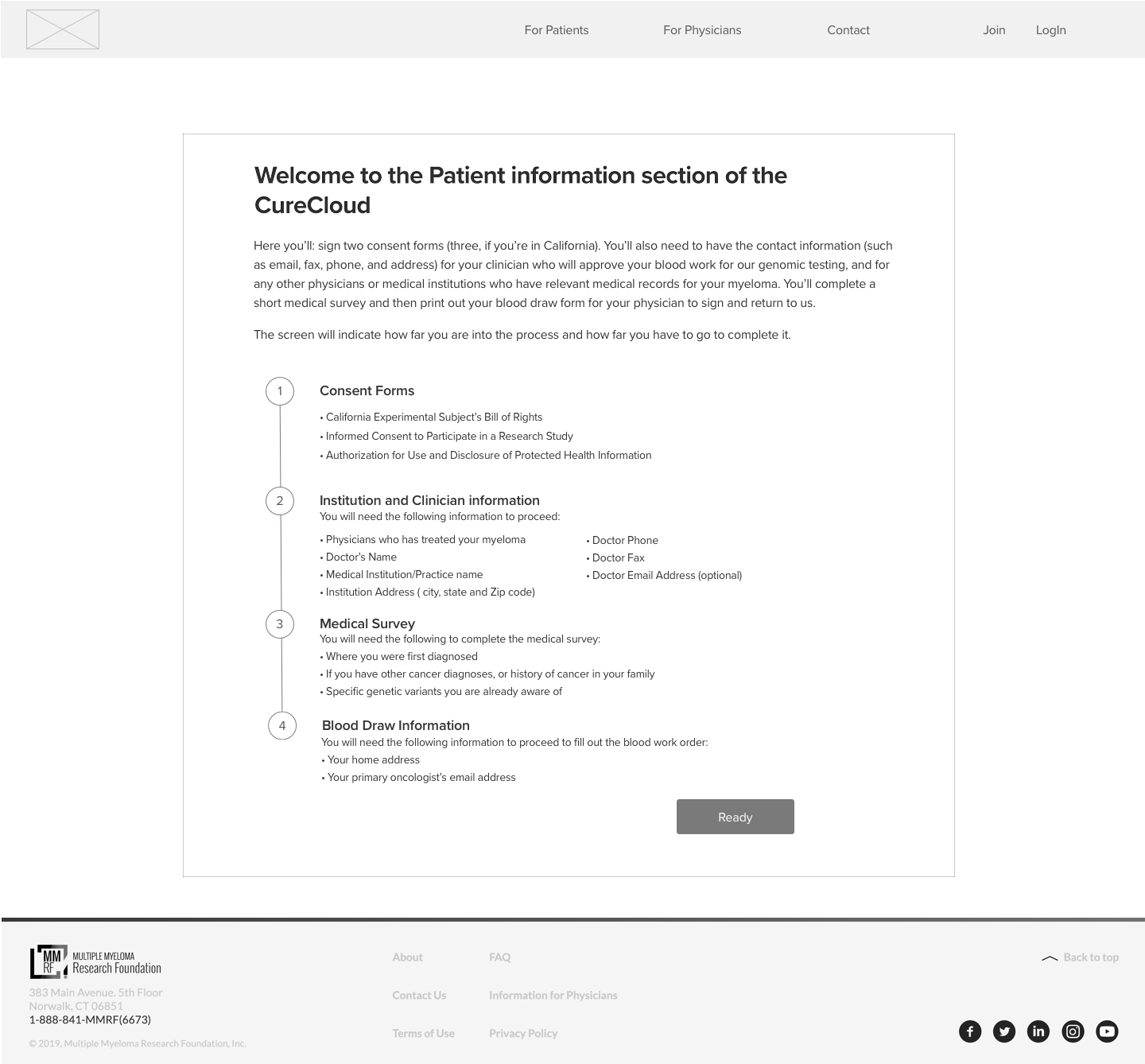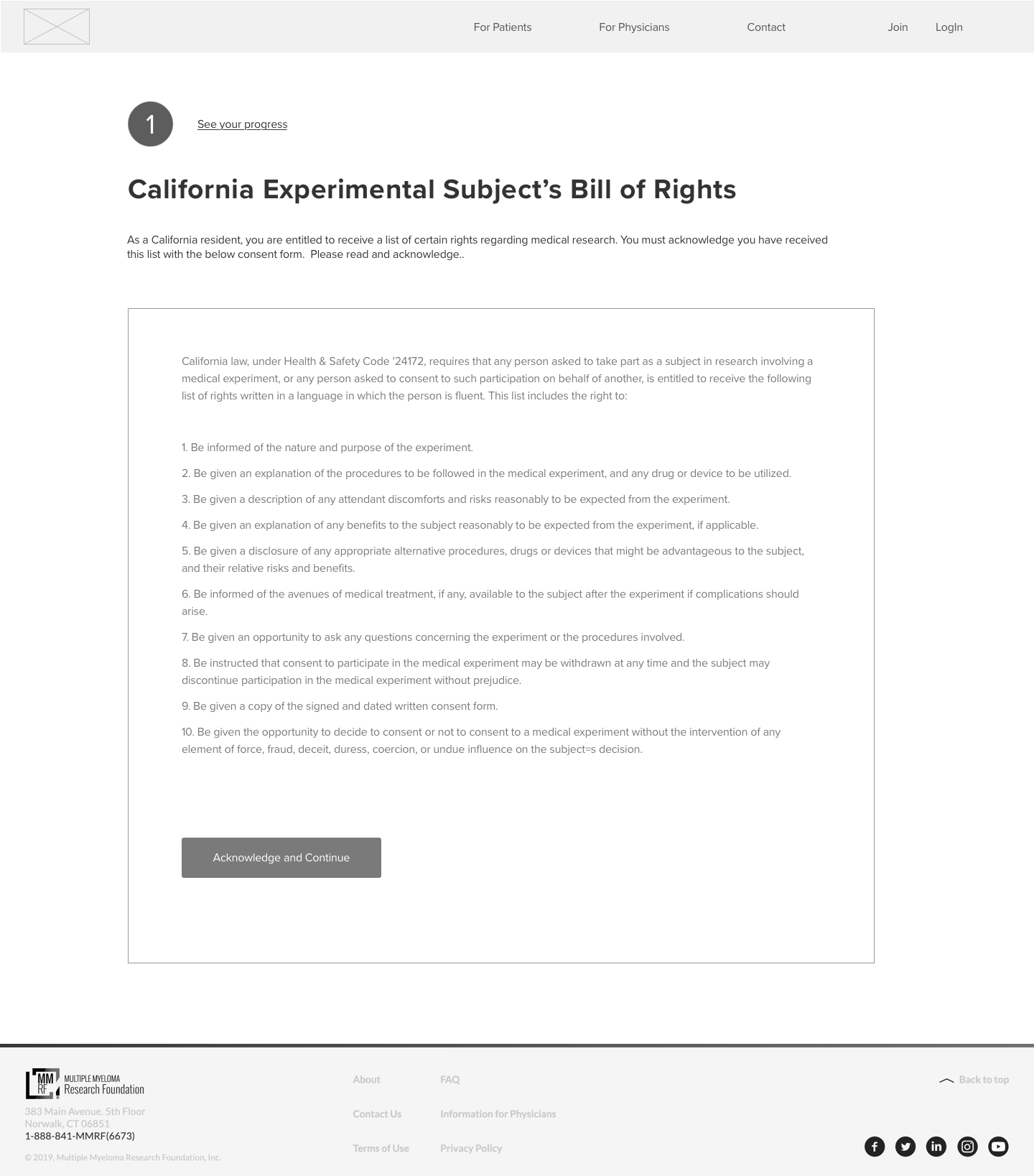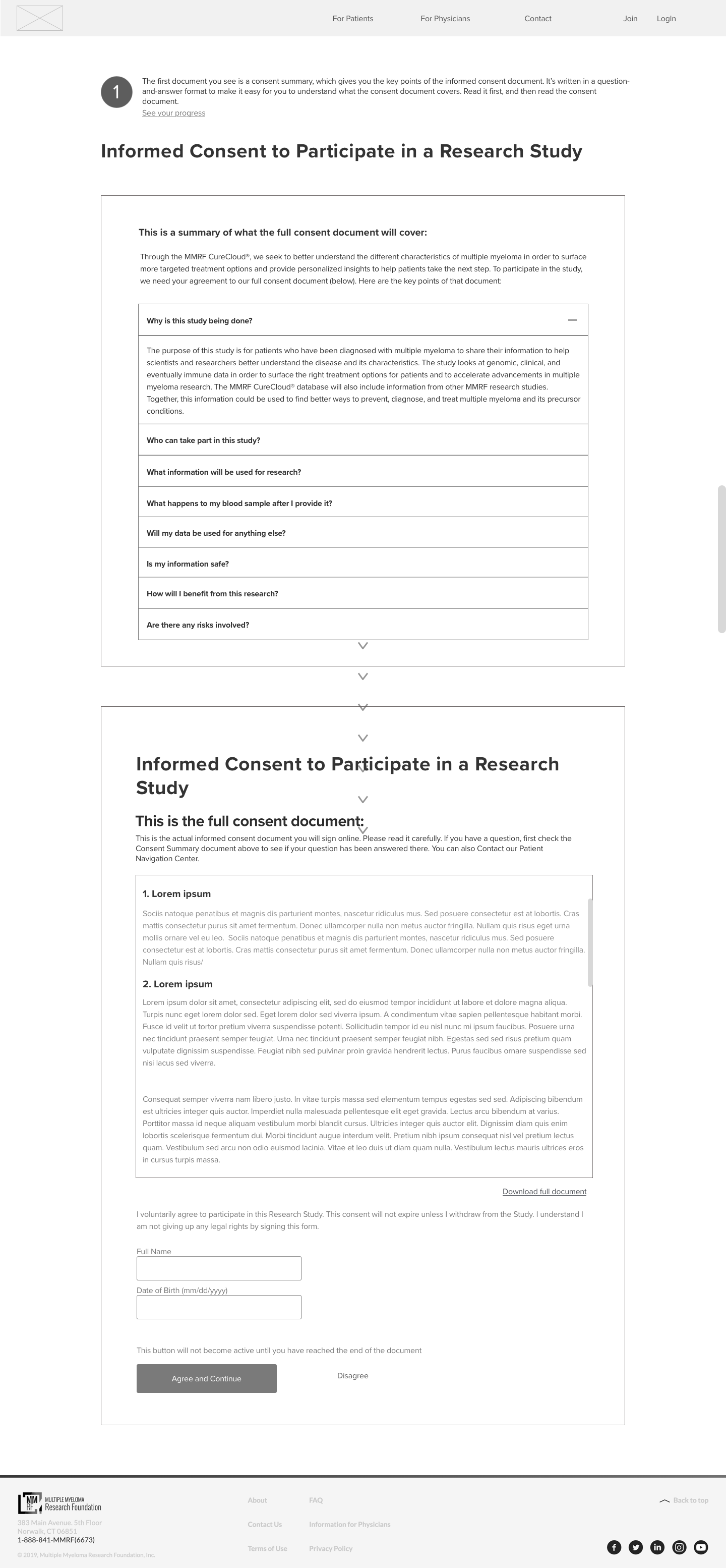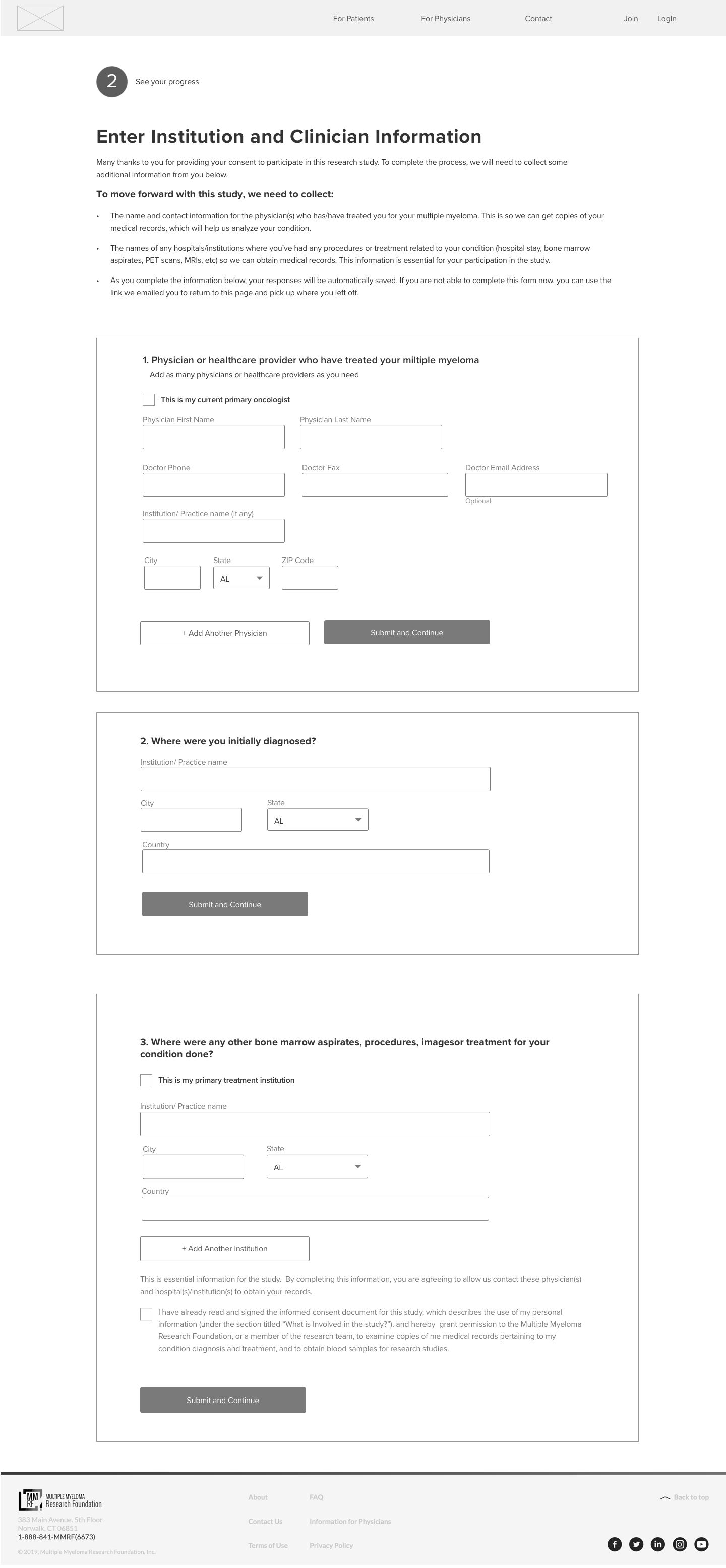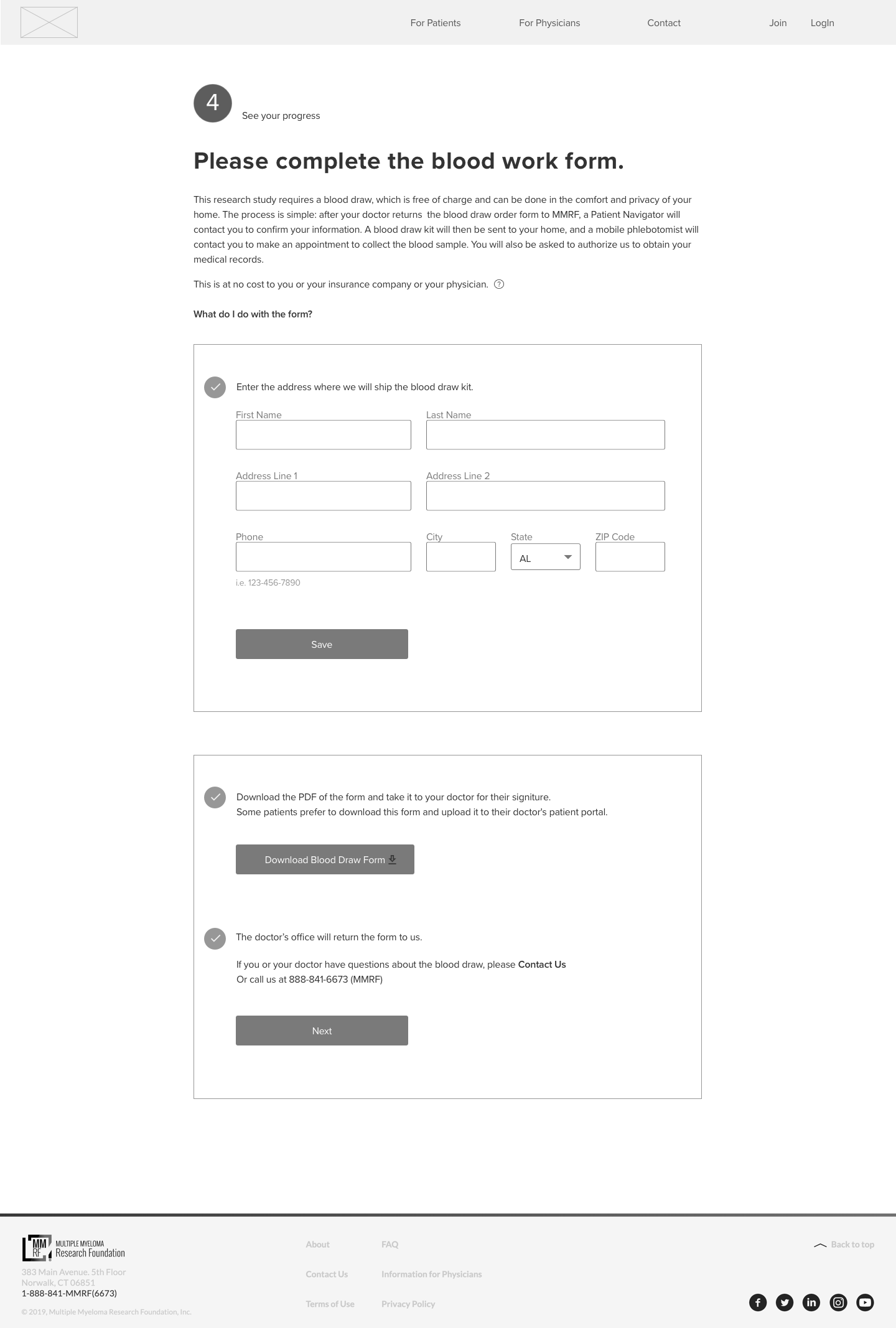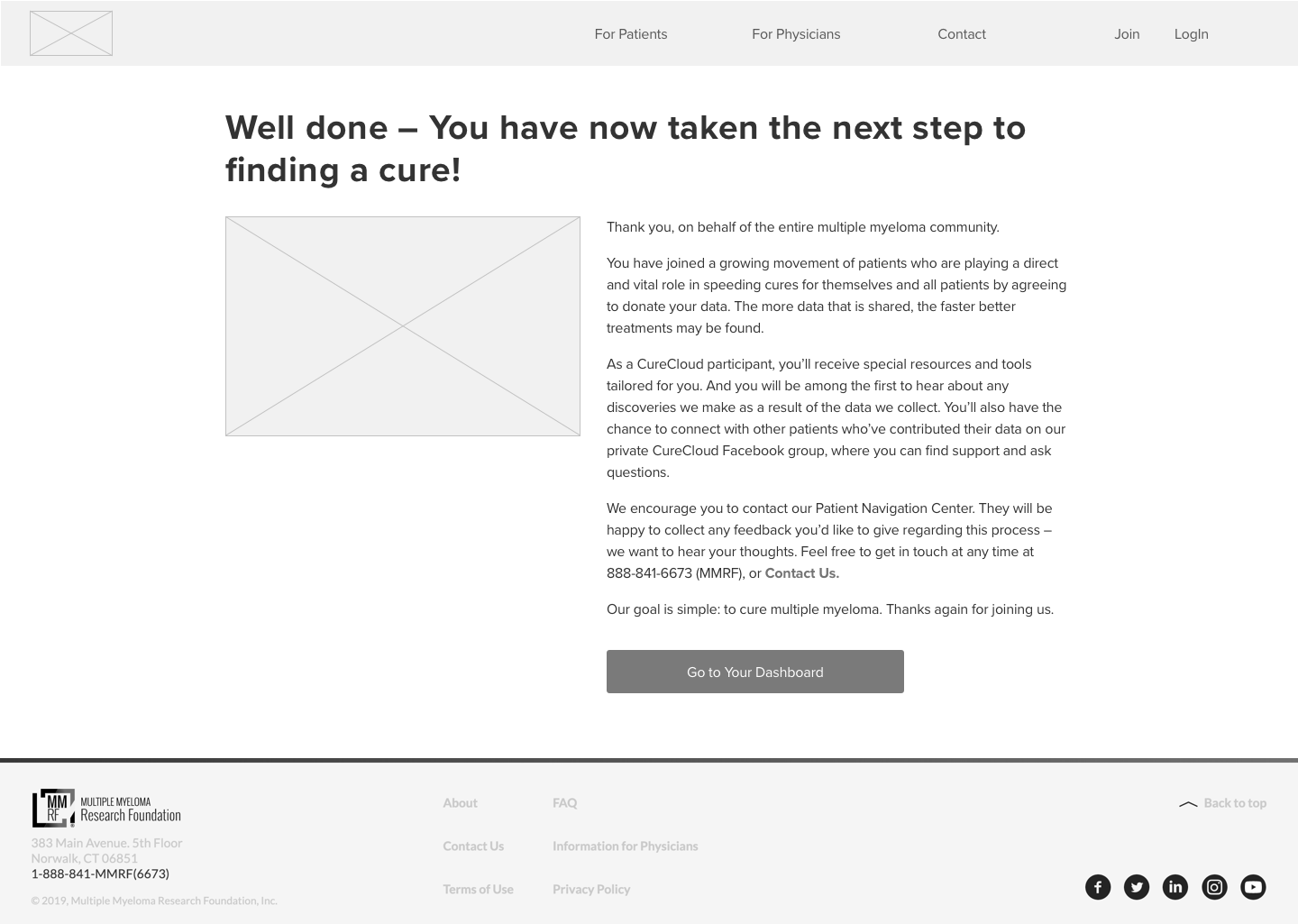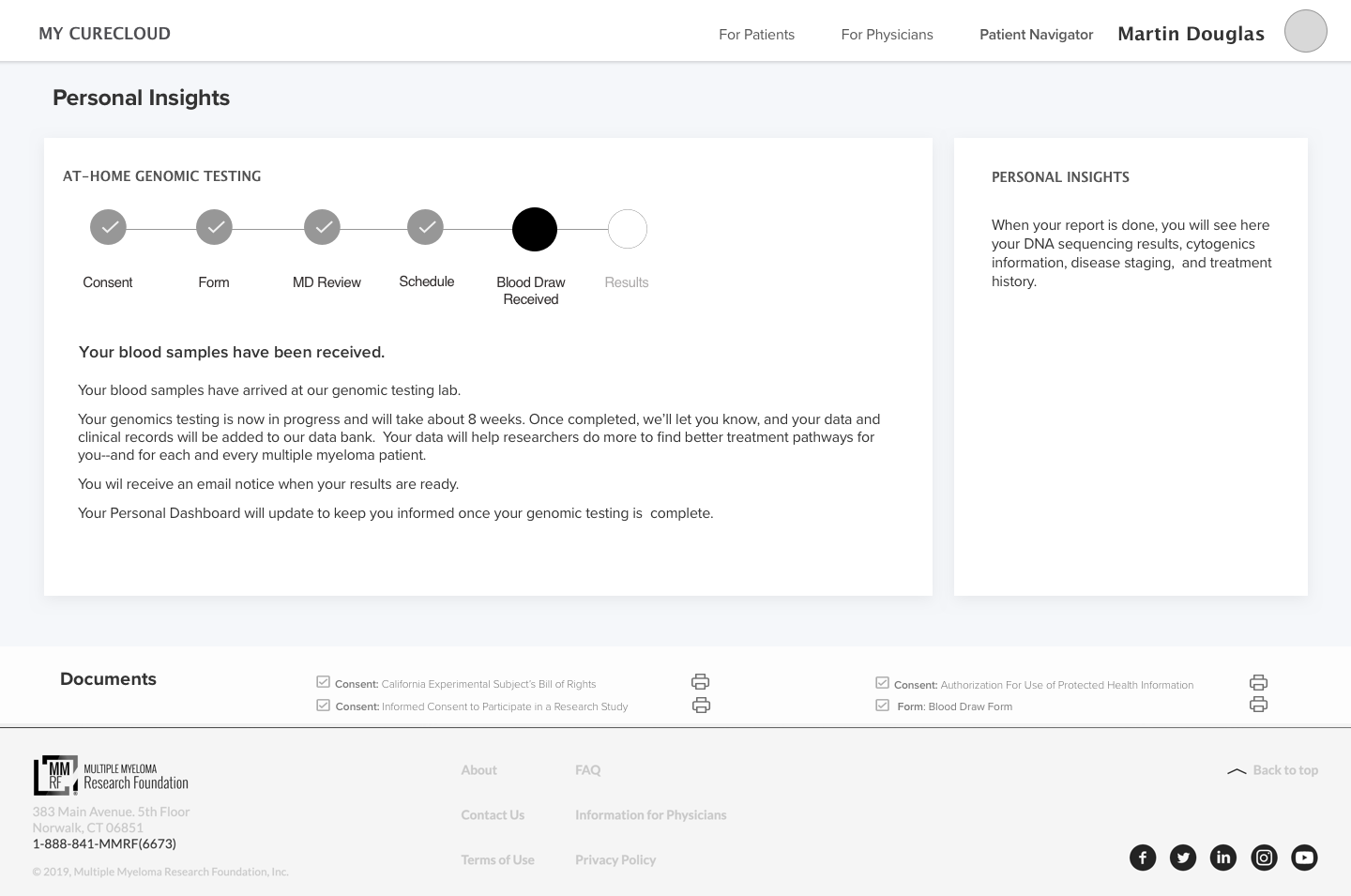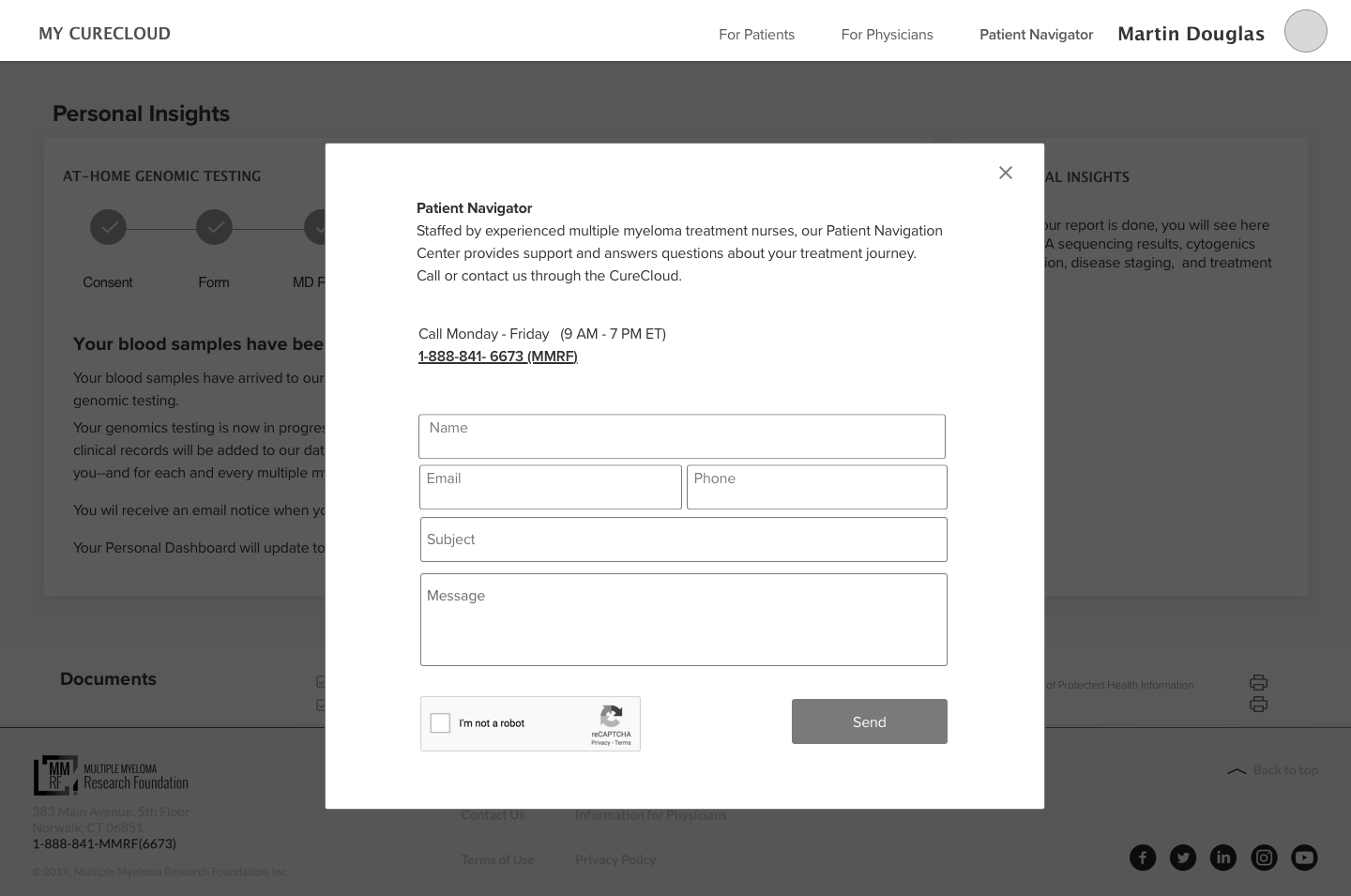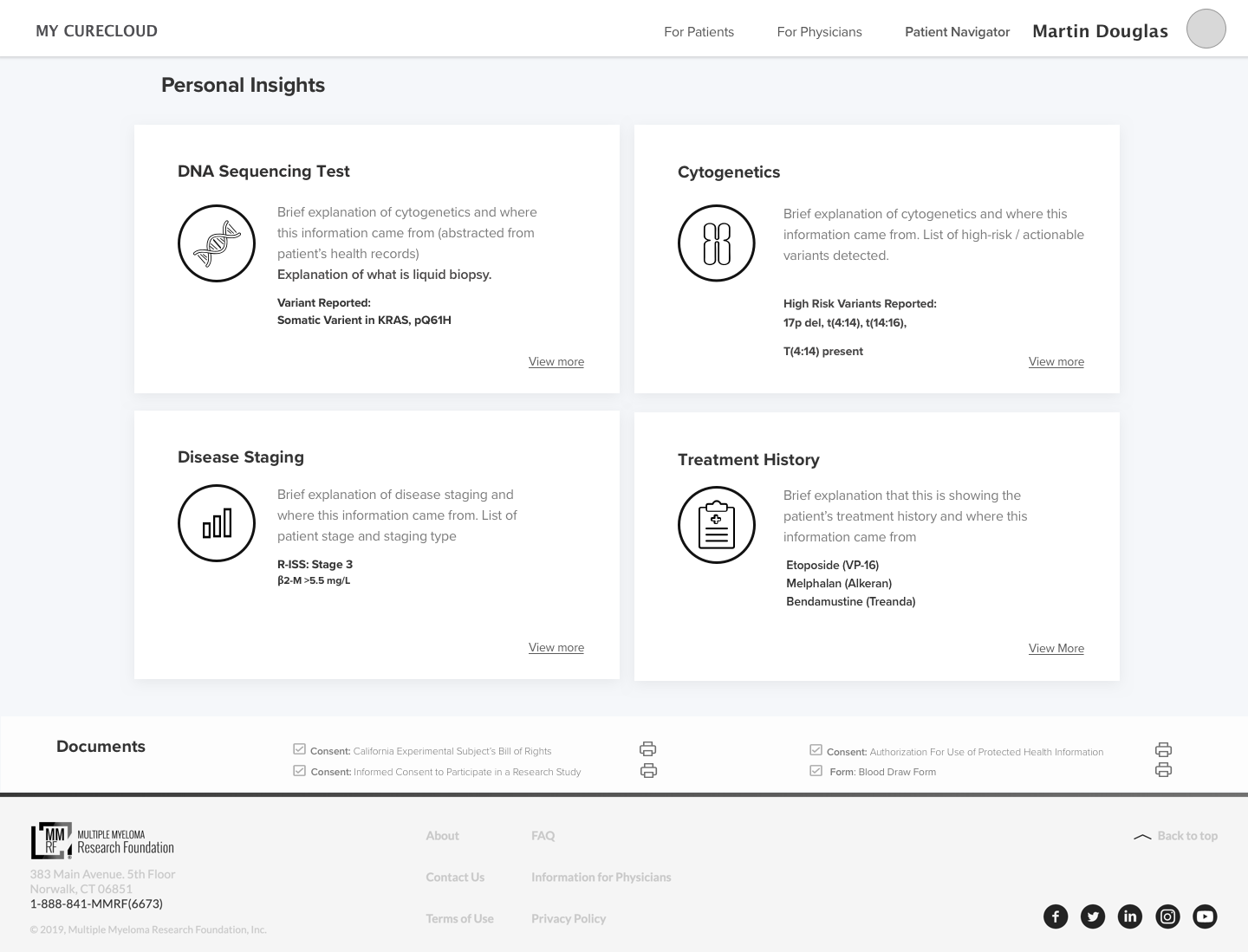 UI Design
We started with stylescapes to help the client pinpoint their preferred design direction, then we started designing the creative in Sketch.
We followed a warm visual style, with humanistic photography to better connect with patients and other audiences. For the CureCloud dashboard experience, we followed Material Design. Both the CureCloud registry and the redesign MMRF website were done in responsive design.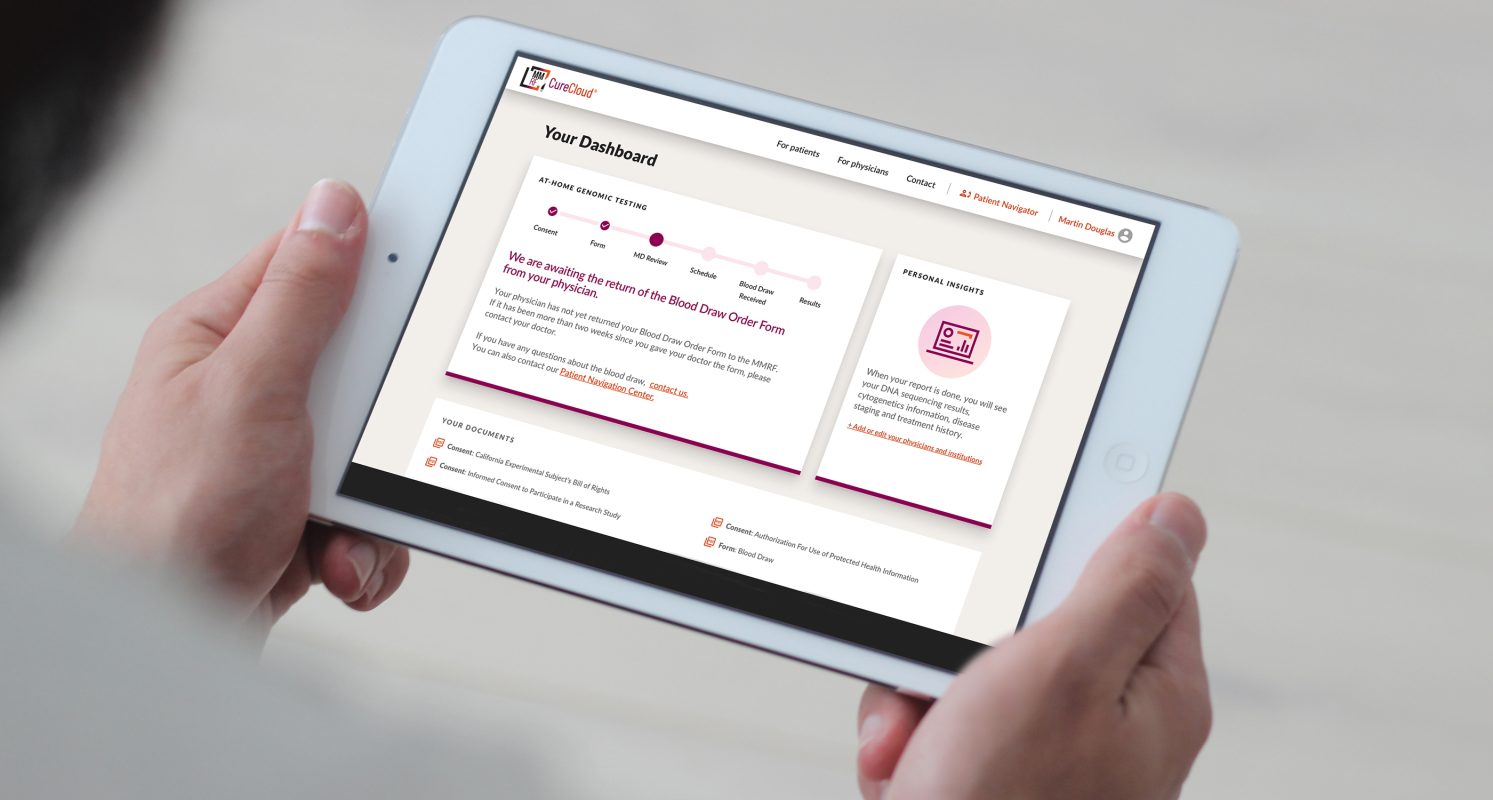 694
Patient samples sequenced
247
Patient health records pulled
*Progress as of August 17, 2023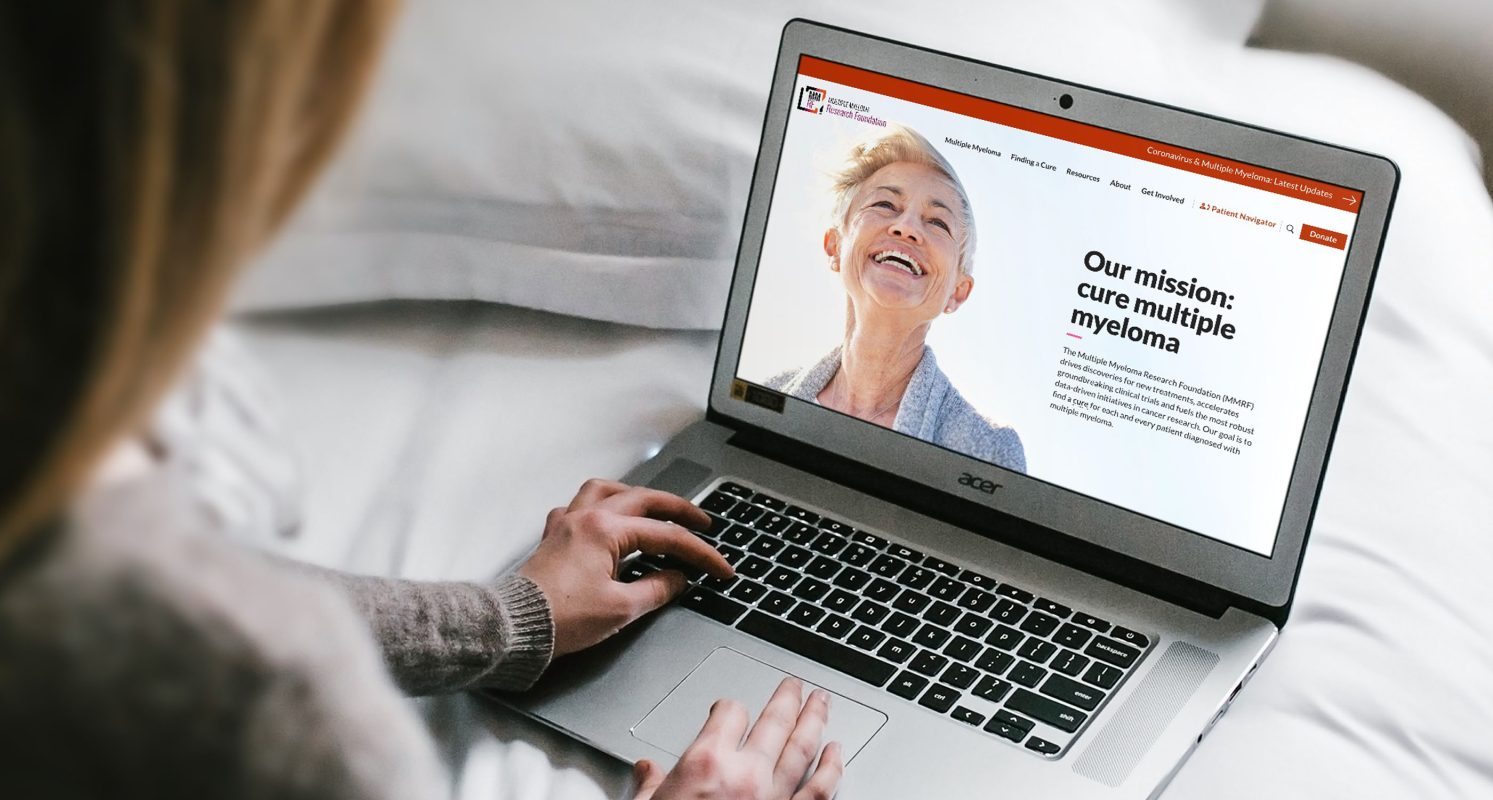 The revamped MMRF website is live and generated 29,789 unique users in the first month, experienced a 22% improvement in bounce rate and a 6% increase in SERP.

In 2021, the foundation site (themmrf.org) won the 2021 WebAward for Outstanding Achievement in Web Development.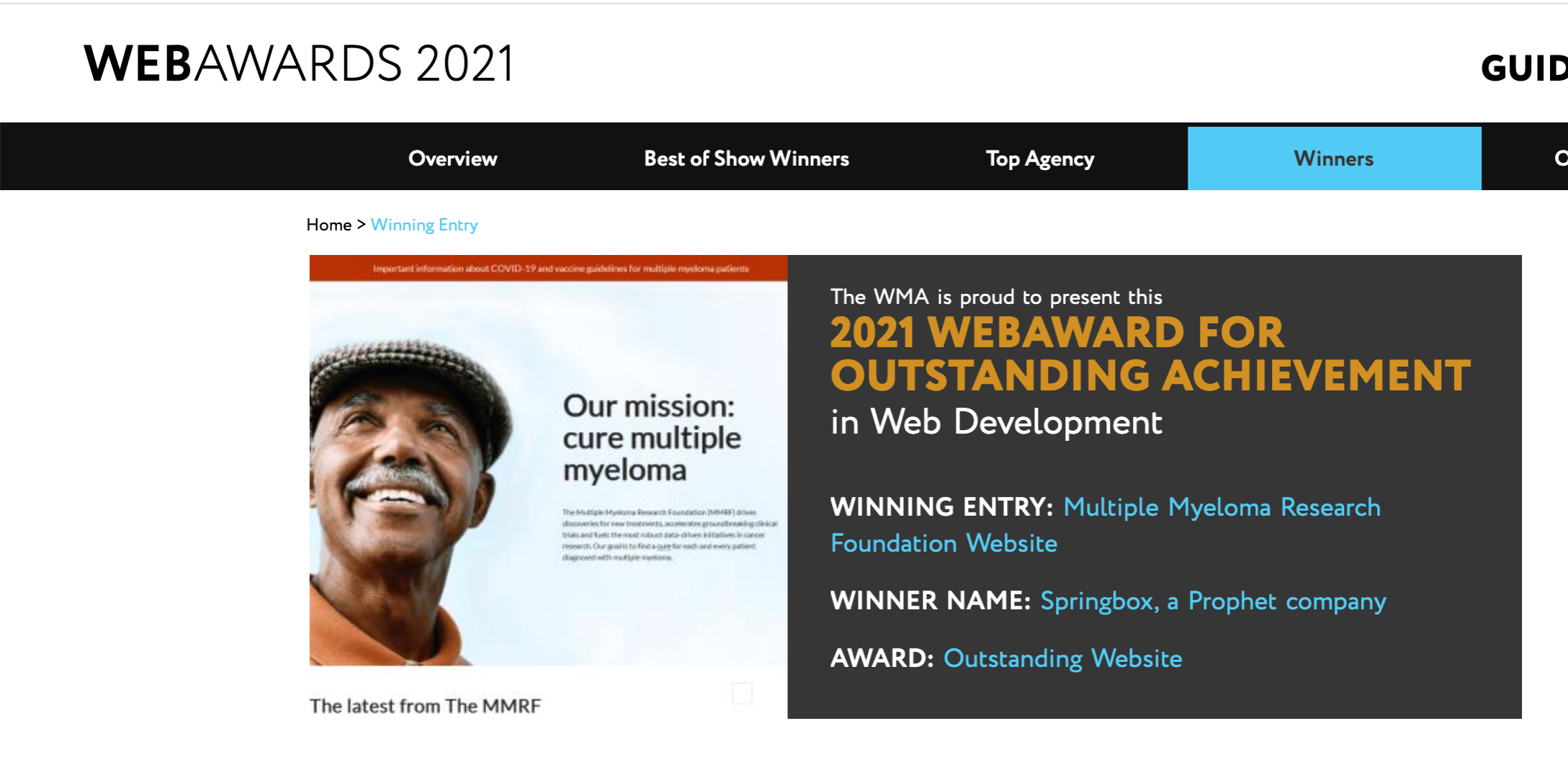 Through the partnership, MMRF has learned how to work in agile to create value through a direct-to-patient, experience-led model.